Train Like Black Panther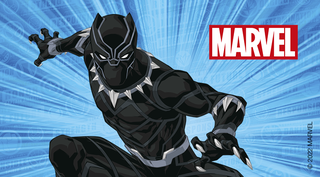 Only a true warrior can become like Black Panther. Can you follow his moves?
Players: 2 or more
Where to play? Indoors or outdoors
How to play
Choose 1 person to be Black Panther.

---

Black Panther starts by calling out the name of a warrior move like star jumps, press-ups or running on the spot. Everyone else must do that move.

---

Keep moving until Black Panther shouts "Wakanda forever!" Everyone must stand and fold arms across their chest, right arm over their left in the classic Wakanda pose.

---

The last person to pose is out. Black Panther starts again with a new move.

---

Keep going until one person is left – they are the new Black Panther.