Rocket and Groot's Sneaking Game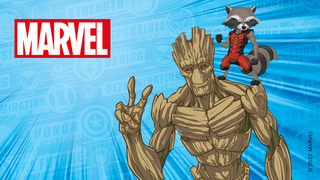 Groot is practising his skills with Rocket. Who is faster?
Players: 2 or more
Where to play? Outdoors
How to play
Pick 1 player to act as Rocket. Rocket faces the wall, waiting to catch Groot. All the other players are Team Groot. They line up far away.

---

Team Groot shout the only thing they can: "I am Groot!"

---

Rocket replies with a number. Team Groot takes that many steps forward.

---

When they get close, get ready to run! Rocket turns and chases Team Groot.

---

If Rocket catches one of Team Groot, swap places! Continue for 10 minutes.