Whoops something went wrong
We're having troubles updating this score right now, check back later to try again.
Potato and poached egg hash recipe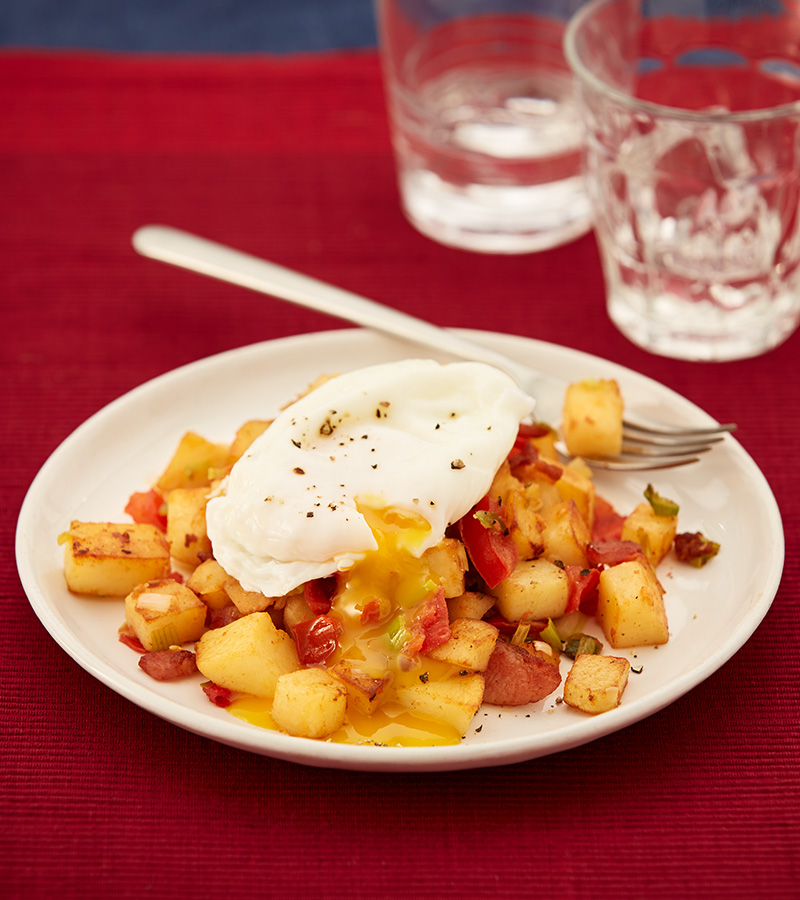 2 tsp vegetable oil
2 rashers lean back bacon, chopped
400g potatoes, pre-cooked and cut into chunks
4 spring onions, finely chopped
4 tomatoes, chopped
4 eggs
1 pinch ground black pepper
Nutritional information

Nutritional analysis, per serving (1/4 recipe)

876kJ / 209kcal
12.3g protein
19.4g carbohydrate of which 3.5g sugars
8.6g fat, of which 2.3g saturates
2.7g fibre
240mg sodium, equivalent to 0.6g salt
Heat the vegetable oil in a large non-stick frying pan and add the bacon, cooking it for 1 to 2 minutes. Tip in the potatoes and cook over a medium heat for 12 to 15 minutes, turning occasionally, until browned.
Add the spring onions and tomatoes and cook over a low heat for another 4 to 5 minutes, while poaching the eggs.
Poach the eggs in simmering water for 3 to 4 minutes, until the whites are set and the yolks still runny (or longer if you prefer a firm set).
Share the potato hash between 4 warm serving plates and place a poached egg on top. Season with black pepper, then serve.