How to play...
1
Make up some actions for different emotions: Joy, Sadness, Fear, Anger and Disgust.
2
Now run in a big circle and act like the train of thought.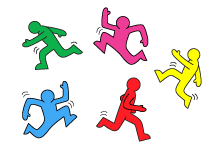 3
Take it in turns to shout out an emotion. Everyone stops on the spot to act out that emotion.
Whoops something went wrong
We're having troubles updating this score right now, check back later to try again.