How to play...
1
You and your friend will both be beluga whales like Bailey. Stand opposite each other and start passing the ball to each other, can you make 10 passes?
2
Now bring more friends in to the circle and keep on passing.
3
To make it harder, try catching and throwing with just 1 hand, or running in a circle.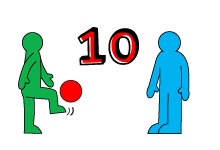 4
Now try it on just 1 foot, but be careful, if you drop the ball, you've got to do 5 press-ups or star jumps!
Whoops something went wrong
We're having troubles updating this score right now, check back later to try again.