Storing breast milk
It's important to store breast milk correctly so that it's safe to feed your baby. Here you'll find advice and tips on the best ways to store breast milk.
How to store breast milk
Breast milk can be stored in a sterilised container, or special storage bags – remember to label and date it.
Store it in small quantities to avoid wasting any. Your breast milk can then be kept:
at the back of the fridge – not the door – for up to 8 days (at 4C or colder)
in the ice compartment of the fridge for up to 2 weeks
in the freezer for up to 6 months (at -18C or colder)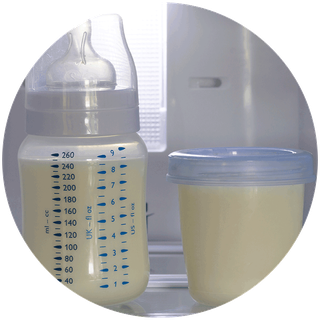 Defrosting frozen breast milk
The best way to defrost frozen breast milk is by leaving it in the fridge to thaw out completely before use.
However, if you need it straight away, you can defrost it by placing the bag or container in a jug of warm water, or by holding it under running warm water.
Whichever way you defrost the milk, it must be used immediately and you should throw away any leftover milk after feeding.
Never re-freeze defrosted milk.
Do not use a microwave
You should never thaw frozen breast milk in a microwave. Doing so can create hot spots in the milk that can burn your baby's mouth.
The Breastfeeding Friend, a digital tool from Start for Life, has lots of useful information and expert advice to share with you – and because it's a digital tool, you can access it 24/7.