Hospital bag checklist – what to pack for you and your baby
Babies do things in their own time, and only 1 in 20 will arrive on their due date.
It might be a good idea to get your hospital bag packed at least 3 weeks ahead of the due date, so that you're all ready to go if your baby decides to make an early appearance.
Our emails include common pregnancy topics like this and much more. Sign up for regular emails tailored to your stage of pregnancy or your child's age.
What to pack for you
In your hospital bag, make sure to pack:
your birth plan and hospital notes
loose, comfortable clothing to wear during labour
dressing gown and slippers or flip-flops (which are also good for wearing to the shower)
nightwear – front-opening or loose-fitting if you're going to breastfeed
3 changes of comfortable clothes
socks
5 or 6 pairs of knickers, disposable ones may be useful
2 or 3 comfortable bras, including nursing bras if you're planning on breastfeeding
breast pads
2 packets of super-absorbent sanitary or maternity pads
your wash bag – with toothpaste, toothbrush, hairbrush, flannel, soap, lip balm, deodorant, hair bands, hand sanitiser, body lotion and anything else you need
an eye mask may help you sleep on the brightly lit ward
towels
your own pillows
healthy snacks, drinks and a water bottle (one with a straw may be handy)
a fan or water spray to help keep you cool
any medicines you're taking
a TENS machine if you have decided to use one for pain relief (with spare batteries)
books, magazines, podcasts, music playlists – anything to help you relax and pass the time
phone and phone charger (an extra-long charging cable or battery pack can be useful)
spare glasses or contact lenses if you wear them
a spare bag for any washing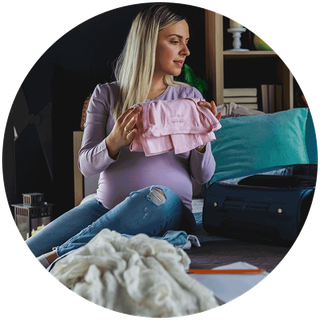 What to pack for your baby
For your baby, remember to take:
bodysuits, vests and sleepsuits
an outfit for going home in
a hat, scratch mittens, socks or booties
snowsuit if the weather is cold
nappies
cotton wool or wipes
muslin squares
car seat for the trip home
a blanket or shawl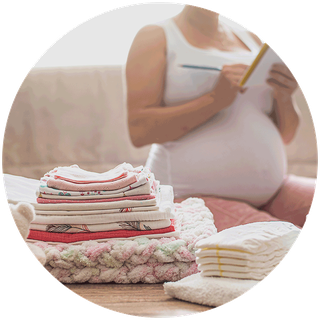 A few suggestions for your birth partner
a change of clothes
toothbrush, toothpaste and deodorant
phone and charger
camera or camcorder
snacks and drinks
swimwear if they'll be getting in a birth pool
any medicines they're taking
spare glasses or contact lenses if they wear them
spare change for the car park and vending machine
Download the hospital bag checklist
You can use our downloadable version to easily edit and print your checklist.