Preparing food safely
Find out how to prepare and serve food safely for babies and young children – including fruit, vegetables, meat, fish, cheese, nuts and other snacks – to reduce the chances of choking.
Reduce the risk of choking
For babies and young children, food can be a choking hazard, especially when they do not chew their food well.
Choking can happen with any foods, but firm foods, bones and small round foods can be more risky.
When preparing food for your child, remember to follow these steps:
introduce solid foods from around 6 months
think about the size, shape and texture of food – cut it into narrow batons, and avoid round shapes and firm foods
use a highchair – make sure babies and young children are alert and seated safely upright in a highchair while eating
always supervise babies and young children while they're eating
role model chewing and swallowing – encourage babies and children to chew and swallow food properly, and not to rush eating
Read more about choking and gagging on food.
How to serve food safely
Follow our guidance on preparing and serving food safely to reduce the risk of choking.
Fruit and vegetables

Small fruits

Cut small round fruits like grapes, cherries, berries, strawberries and cherry tomatoes into quarters (4 small pieces).


Pips or stones in fruit

Always remove hard pips or stones from fruit.

Large fruits and firm fruits

Cut fruit like melon and apples into slices instead of small chunks. For very young children – try grating, mashing, steaming or simmering firm fruits.

Vegetables

Cut vegetables like carrots, peppers, cucumber and celery into narrow batons. For very young children, try grating, mashing, steaming or simmering firm vegetables and legumes like butter beans, chickpeas and tofu.

Cooking fruit and vegetables

Try softening firm fruit and vegetables (like carrots, broccoli, yam and apples) by steaming or simmering until soft. Then cut the fruit or vegetable into slices or narrow batons.

Fruit and vegetables with skins

Try removing the skin on fruit and vegetables – it makes it easier to swallow, especially for very young children.
Meat and fish

Sausages and hot dogs

Cut sausages and hot dogs into short strips. Cut them in half and then lengthways, or as thinly as possible. Peeling the skin off the sausages makes them easier to swallow.

It's a good idea to limit how often you give processed meat (such as ham or sausages) to your child. However, small amounts are OK as part of a balanced diet.


Meat or fish

Remove all bones from meat or fish. Cut meat into strips as thinly as possible.

Remove any skin and fat to make it easier to swallow.
Cheese

Either grate cheese or cut it into short, narrow strips.
Nuts and seeds

Chop or flake whole nuts, peanuts and seeds.

Do not give whole nuts or popcorn to children under 5 years old.
Bread

If not chewed properly, white bread can form a ball shape with a dough-like texture in the throat. Try lightly toasting white bread, or use brown bread instead.

Bread, chapatis, naan bread and other breads should be cut into narrow strips.
Snacks and other foods

Peanut butter

Only use nut butters as a spread or in other cooking, for example in curries or swirled into porridge.

Do not give peanut butter to babies and young children by itself.

Raisins and other dried fruits

Do not give whole raisins or dried fruits to babies under the age of 1. Always cut them into small pieces.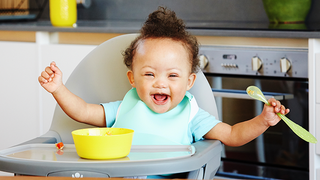 Take our quick quiz to see if your baby might be ready to start weaning, and learn more about the signs and common myths of introducing solid foods.