Tuna mayo jackets recipe
Introduce your baby to a lunchtime classic – jacket potato with a tuna and mayonnaise filling. Served with carrot and cucumber sticks on the side.
Age: 7 to 9 months
Prep: 10 mins
Cook: 10 mins
Portions: 5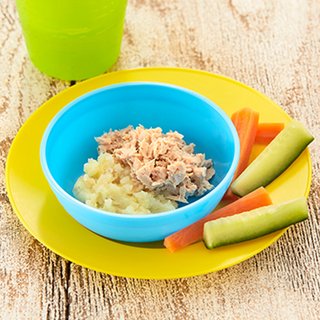 Ingredients
1 small baking potato (1/3 to serve, 30g)
1 small tinned tuna in spring water, drained (130g)
1 heaped tsp mayonnaise (15g)
1 tsp plain whole milk yoghurt
15g carrot, peeled (1 portion)
15g cucumber (1 portion)
Method
Prick the potato a few times with a fork, place on a plate and microwave on high for 5 minutes.

Information:

Turn over and microwave for a further 5 minutes until soft. Carefully cut open once cooled a little.

Flake the tuna into a bowl, add the mayonnaise and yoghurt – mix well.

Information:

For extra veg, add some tinned sweetcorn to the tuna mayo mix.

Cut the carrot and cucumber into finger sticks

Once the potato is cooked, put 30g of the tuna mayo mix on top of the potato and serve with the vegetable sticks. If preferred, mash the meal up before serving.