Benefits of data sharing Find out why your data matters
Research

Prevent serious illness

Develop new treatments

Learn more about diseases
Your confidential patient information provides numerous benefits. It is used in research to find cures and better treatments for diseases like diabetes and cancer.
With your data, we are better able to develop and improve health and care services for the future.
Planning

Plan NHS health services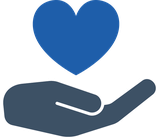 Make services safer

Improving quality of care
Confidential patient information can also be used to plan health and care services more effectively. The NHS and local authorities can plan where they need to provide further care services more efficiently.
This helps to improve health and social care for you and your family.